One thing all Humble auto repair experts know very well is the drivetrain.  The drivetrain is what essentially puts the power generated by the motor to the axles.  There are three common kinds of drivetrains: the regular 2WD ( FWD or RWD), the stability giving AWD and the changing 4×4.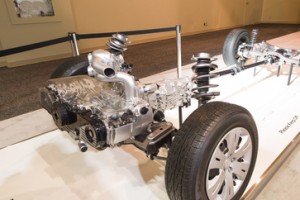 2WD (2 Wheel Drive)
In a FWD car or truck, the engine's power is relayed to the front wheels. Using the power received from the engine, the front-wheels are in essence "pulling" the car to create motion. The rear wheels do not receive power and are only "following" the front wheels.
In the case of a RWD car or truck, it is the rear wheels that receive power from the engine, and motion is created by the rear wheels "pushing the car". Like a bicycle, the front wheels are not relayed to any power source and turn because of motion created from the rear wheels.
4×4
A part-time 4WD system allows the driver to manually select if the power from the engine is relayed to only two wheels or to all 4 wheels. The default setting on a 4WD car is usually rear-wheel-drive. Using a switch, the driver can select to have power transferred to all 4 wheels.
There are 3 settings a driver can choose from on a part-time 4WD vehicle: 2WD, 4Hi and 4Lo. By switching to either 4Hi or 4Lo, the driver engages all four wheels. The difference between Hi and Lo settings resides mostly in the torque provided to the wheels under each setting. Lo mode receives the most torque and the most power but also is restricted in speed and is most often used to get out of very difficult off-road conditions. Hi mode on the other hand would normally be engaged in snowy or slippery conditions (or muddin').
 AWD (All Wheel Drive)
All-wheel-drive systems are identical to full-time 4WD system except they do not have a 4Lo mode. It is impossible to increase the low-speed torque to escape difficult situations, making AWD vehicles less capable in rugged terrain or harsh conditions. However, AWD vehicles are more popular than 4WD in today's automotive market because all-wheel-drive is sufficient for most people's driving habits.  AWD is especially useful when you live in a place where it rains a lot.  The AWD has a little more traction control so you don't have to worry about slipping and sliding.
Whitty'z Humble Auto Repair Shop
We are owner operated and customer service oriented. Our goal is to build your trust so we can fix your vehicle and give you a great experience time and time again. We believe in REAL customer service So, at Whitty'z Humble Auto Repair if you call between 8-6 pm Monday- Saturday you will get a conversation and not an answering service. Give us a chance to earn your business and your trust. You deserve quality service and integrity in your Humble auto repair facility. We know that your vehicle is one of your most important possessions and we treat it like our own.