Why You Need A Regular Mechanic
A lot of times when customers come to our Humble auto repair shop for the first time, they seem a bit flabbergasted when certain items need to be looked at and/or replaced. Then they'll leave and go shopping for the cheapest available mechanic to fix their problem. While that help's their financial issue at the time, it hurts their long term issue, which is having a regular auto repair shop that knows you and your vehicle.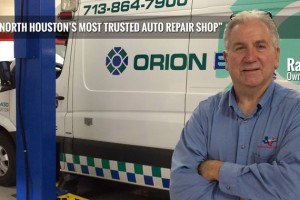 What Having A Regular Auto Repair Mechanic Means
Have you ever invested money before? Have you had a financial adviser? A lot of times, having a financial adviser can be equated to having a regular auto mechanic. It's a person who knows you, you have a relationship with, they know your vehicle, your typical problems and the type of wear you put on your vehicle. When you shop around consistently for the lowest deal, you run the risk of dealing with an auto repair shop that just wants your money and isn't giving you the service you need. It's very easy to be taken advantage of in repair shops and we've spent years building up our ethical and honest way of business that hundreds of customers can attest to. When you don't have a regular mechanic you are going to be dealing with multiple mechanics who don't know the service history of your vehicle, and quite frankly, probably don't even care. They're after your money and your business. A lot of times, they'll give you a very cheap repair cost and then once you've paid that, they'll conveniently  find another issue to pay for or else your main problem won't get fixed. It's a lot like a bait and switch type of operation.
The more tenure you have with your auto repair shop you frequent, the more likely you are to probably get a much better deal in the long run. The auto repair shop will know you're a good customer and will try and help you out as much as possible. This is how we've built our business up over the years and how we continue to thrive.
If you're ever experiencing some kind of bait and switch operation from a mechanic, please don't hesitate to contact our Humble auto repair shop and we'll be happy to answer whatever questions you may have provided we have the time to. We're an owner operated business and stand behind all of our work we do.
Whitty'z Humble Auto Repair Shop
We are owner operated and customer service oriented. Our goal is to build your trust so we can fix your vehicle and give you a great experience time and time again. We believe in REAL customer service So, at Whitty'z Humble Auto Repair if you call between 8-6 pm Monday- Saturday you will get a conversation and not an answering service. Give us a chance to earn your business and your trust. You deserve quality service and integrity in your Humble auto repair facility. We know that your vehicle is one of your most important possessions and we treat it like our own. Make sure to LIKE us on Facebook!