Whitty'z Humble Auto Repair Shop doesn't get a lot of business with self driving cars, we're still fascinated with them!  We know companies like BMW, Audi, Mercedes-Benz and Volvo have been putting automated aids in their cars, things like blind spot monitors, lane correction and the stop feature that completely stops the car if it senses an object.  But Google is talking about a car that drives itself completely.  No matter the term used, the end result is that some element of control of the vehicle passes from your hands and feet to a computer. In its simplest form, cruise control could be considered part of this technology, though traditionally it is referred to as a driving aid.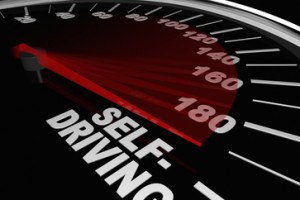 What is it?
Google's newly announced car, for example, completely computerizes all the work of driving and replaces all pilot input with a start and stop button. You won't need to know how to drive. In fact, you don't even have to care about cars anymore if you'd rather not. Google's vision happens to be a pod you travel in as if by magic; other makers may opt to have control available that you can enable or disable.
How does it work?
Google's car is outfitted with a staggering array of equipment to keep tabs on where it is and to track its surroundings. A LiDAR (Light Detection and Ranging) scanner on the car's roof maps the world in real time, similar to Microsoft's Kinect. It tracks depth and distance, acting as the car's eyes. That info is compared to stored data to help discern pedestrians from inanimate objects.  In tandem, radar and ultrasonic scanners (plus cameras) keep track of the 360 degrees of space around the car. This includes reading signage, watching for road hazards, monitoring for red lights and everything else you normally watch out for while driving. Google has been adding scenarios for road hazards such as construction and even recognizing and understanding a cyclist's hand signals for lane changes and the like. Think of this system as the car's brain. Google may be at the forefront of this new frontier of automobiles, but the company will likely remain behind the scenes in the industry. While we don't see Google selling cars, we do expect it will stay an innovator in the space, developing the platform for car vendors. Like how its Android OS is adopted by cellphone makers, it's not hard to imagine the same happening for automotive tech.
What do people say?
Some folks are going to hate it, plain and simple. Having no control of the metal box carting you through space at high speed is likely to be an intimidating experience for some. So much happens around you while you're driving: What if the car doesn't react properly? Or at all? What if the system crashes? All of these are valid concerns, and all are possible. To the credit of interested parties, years of work have gone into this research by many companies. Google alone has logged 700,000 autonomous miles of driving. That's almost two round-trips to the moon, or nearly 30 laps around our little blue planet.
Whitty'z Humble Auto Repair
We are owner operated and customer service oriented. Our goal is to build your trust so we can fix your vehicle and give you a great experience time and time again. We believe in REAL customer service So, at Whitty'z Humble Auto Repair if you call between 8-6 pm Monday- Saturday you will get a conversation and not an answering service. Give us a chance to earn your business and your trust. You deserve quality service and integrity in your Humble auto repair facility. We know that your vehicle is one of your most important possessions and we treat it like our own.